24 The Christmas Rose
---
Christmas Eve--the night of Christ's birth, and a night of magic when the everyday world seems cloaked in mystery. The Christmas Rose, according to legend, sprung from the frozen soil of Bethlehem in the midnight hush that attended the Nativity. Here, then, are the traditional stanzas of "Lo How A Rose," which come to us from 15th Century Germany, and seems peculiarly suited to being heard by starlight: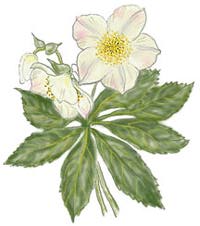 Lo, how a Rose e'er blooming
from tender stem hath sprung!
Of Jesse's lineage coming,
as those of old have sung.
It came, a floweret bright,
amid the cold of winter,
When half spent was the night.
Isaiah 'twas foretold it,
the Rose I have in mind;
Mary we behold it,
the Virgin Mother kind.
To show God's love aright,
she bore to us a Savior,
When half spent was the night.
Especially in Germany, the rose is an emblem of Christ. Legend has it that the one of the shepherd women, too poor to give a gift to the Christ child, was visited by an angel who caused the herb to appear and burst into bloom--the Christmas Rose. The woman then offered the rose to the infant Jesus.
The Christmas Rose (helleborus niger) is not actually a rose at all but a perennial herb with lobed leaves and a white five-petaled flower. Because it blooms in the middle of the winter, it is often called the Christmas Rose.

---
Merry Christmas, Everyone, and a Happy New Year!